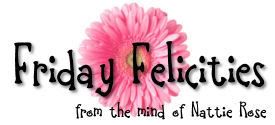 * Diet Coke in the can straight from the fridge (No FF would be complete without mentioning it)
* Sipping said Diet Coke with the windows open.
* Spending my Quiet Time with God with my windows open.
* Cleaning house while the windows are open (it's the BEST way to motivate myself to clean).
* Having hubby home today so he can reach the window over the sink.
HAPPY FALL Y'ALL!!