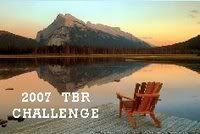 I am taking part in a TBR Challenge over at
Literary Cache
. I have SO MANY books and yet I find myself picking new ones up instead of reading what is already on my shelves.
SOOO...I have decided to join this group and challenge myself to read one a month...which is VERY do-able for me. So without further ado, here's my list:
January - The Pilot's Wife by Anita Shreve
February - Tara Road by Maeve Binchy
March - Conspiracy of Kindness by Steve Sjogren
April - The Family: A Christian Perspective on the Contemporary Home by Jack and Judith Balswick
May - Purpose Driven Church by Rick Warren (I'm not sure why I haven't read this yet, but curiousity is getting the best of me, I think).
June - The Trumpet of the Swan by EB White (I LOVE her other books, but I'm not sure why I haven't read this one yet...I may read it aloud to the boys as well.)
July - The Complete Works of EM Bounds on Prayer by EM Bounds :)
August - Witnessing Without Fear by Bill Bright
September - The Wedding by Nicholas Sparks (I've avoided reading him for a long while now. I guess it's time to try him, and this is the only one of his books I HAVE so therefore it made it to this list).
October - Amityville Horror by Jay Anson (had to read a scary one this time of year)
November - Fresh Power by Jim Cymbala
December - Deception Point by Dan Brown (I've enjoyed his other books and figured this would be some easy reading during a high stress time)
So there it is. I will be working to read these books every month. Of course, I still have my book club books to read every month, plus blogs, and entertainment books....sigh...I think I may have an addiction.