I COMPLETELY MISSED THE TOUR OF HOMES!!!
Well, now that everyone has moved on to other news, I will be the LAST to have you tour my home...
Please note...none of these pictures are "recent" they are all pics I've taken in the past, but I haven't changed anything lately so at least the floor is swept :)
Here is the pic of my house. I didn't want to get the door b/c it needs to be painted...bad...
Here is my kitchen...where I surprise my family by announcing dinner via the buzzing of our smoke detector...seriously, this happens almost every time I cook...sigh...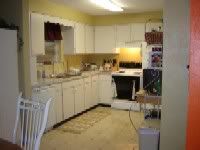 This is my dining room where we sit to eat the yummy dinner that didn't burn...it really didn't...the alarm goes off b/c it's too close to the stove...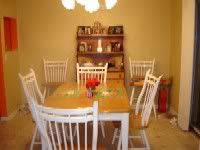 Here's my living room...and my orange walls...they make me happy :)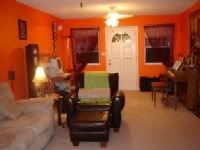 Here's my favorite corner of my living room...my music corner...one day I hope to have a music ROOM but when you have barely over 1,000 sq. ft in your home that's just not an option.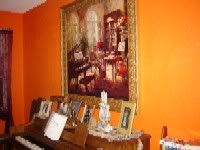 And the finale...our favorite spot...the backyard...this is what sold us on our house. We absolutely LOVE it. It is so peaceful and feels like our very own park in the backyard...now only if we could afford a playground...hmmm...
Thanks for stopping by and seeing my home. Y'all come back now...ya hear?